Again I've been slacking on blog posts. This has been a particularly hard summer for me, goodness knows why. Summer is supposed to be fun! And when school starts it's supposed to be chaotic and horrible-feeling, and yet here I am, very much behind on my posting because of my annoying-as-hell emotions and anxiety.
I don't know if I will be back-tracking on all the mail I've missed posting about just yet. I did get some interesting things: a TFiOS preparedness kit, an amazingly decorated letter from my #1 pen pal, a cute note card from my newest pen pal (from the IGGPPC I have 3 now), among other cool things. If there's enough requests I'll eventually backtrack and post about these things, but for now I'm going to be trucking forward. I also won't backtrack on my Photo-a-Day challenge either: you can see all the photos I've taken and uploaded on
Instagram
if you so desire. Now for the mail!
Sent Mail: 5 Items!
Item #1: Card & Ticket for My Sister-in-Law, Brittany.
To be honest, I didn't really need to send my sister-in-law this card, but I decided that I would do it anyway.
See, over a month ago, I happened across an awesome Facebook deal, where you could get not only advanced tickets to a musical that I've been wanting to see for SO long, but they were also discounted tickets. Since Brittany took me to my first concert and I know that she generally enjoys my company, I had the great idea to take her to this show with me. She didn't first find out about it from this card, I told her over dinner a few weeks ago, but I figured I would get her excited by sending her this card with the stamped date of the show and with a printed copy of her ticket inside.
The show that we are going to see, ladies and gentleman . . . is Wicked.
(That's why I used green & black ink inside the card. The washi tape on the envelope was a dark green one too)
Ever since I first heard about it online and heard the music, I've been dying to see Wicked for myself in person. I've watched full productions online, but I know that YouTube videos can hardly beat getting to see such an amazing spectacle in person. One thing that I'm also super excited about is not only will we be seeing such an awesome show, but we'll be sitting in the 6th row of the orchestra! 6th row! That's SO freaking close, I'm so excited about this. The tickets were very reasonably priced as well, which is why I will be treating my sister-in-law to a very wicked evening come September.
She will have to drive us there, so it's not a complete treat, but other than driving she gets to relax and not worry about a thing, so I`d say that's pretty good :)
Items #2-3: Birthday Packages to Fellow Vlogiggles Rebecca & Chelsea!
Chelsea's birthday, truth be told, was back in March, so it is way, way overdue! At first I was just so occupied that I wasn't able to get her gift together in time, then when I did have it together she was moving so I had to wait for her new address, and once I had that I slacked some more, and I finally got around to sending it off last week.
rebecca's is belated as well, but her birthday just happened this past month, so I feel a little less guilty about it. last year I made her do a funny birthday dance on camera (as you can see in the .gif above), but this year her card & gifts are a little bit nicer.
Item #4: Card & Poem to My Boyfriend
As I've shown in previous posts, I like sending my boyfriend the occasional gift in the mail. Typically when I do this I feel silly unless I have something else to send him aside from a quick "Hi!" message, so I tend to send him pieces of writing that I've come across in the past that have spoken to me in a number of ways.
While listening to the audio book for
Love Letters to the Dead
, which you can read my review for
here
, I first came into contact with this poem, "The Art of Losing Isn't Hard to Master" by Elizabeth Bishop. If you've never read it before, I recommend looking it up on Google or Goodreads to see why I was so drawn to it upon hearing it. My boyfriend's currently spending time with his family in Woodstock, and he'll probably greeted to this card when he gets back to the region. Even so, I already have a good idea of what I want to send him next!
Item #5: Letter & Card To My New Pen Pal Mia!
Here is a true testament to "if you want something, make it happen." Mia is somebody I have admired from afar from a long time, and when asked for one of the IGGPPC Sponsor questionnaires, "If you could have anyone, real or fictional, for a pen pal, who would you choose?", I listed Mia, because I thought she would be the kind of person that I would love to get to know through the written word. And she happened to see this sponsor post, and she approached me and asked if I really did want to be her pen pal.
I was so excited! It was my job to put together the first letter, and I managed to write the entire thing in one sitting, and it's a decent length as well. I was super worried about making a good first impression and I wanted to "impress" her for whatever reason, which is why I decorated the letter and the card so much and I did my best to stick to a single theme. The outside of the card has a bike on it as well, and I used some washi tape and stamps on the outside of the envelope too.
Received Mail: 3 Items!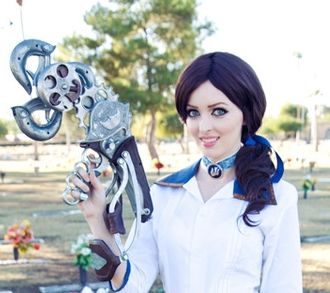 Item #1: Brown "Ferrari" Wig from Arda Wigs!
The reason I currently have long, brown hair like I used to back in the first half of my high school years is because I'd been growing it out so that I could cosplay as Elizabeth from Bioshock Infinite in the summer. I did accomplish that mission, and I wore my actual hair when I went to Niagara Falls Comic Con. However, I wasn't completely satisfied at how the cosplay tied together. Plus, as the summer drags on, long hair has not been the most comfortable option, and I've been considering wearing it shorter again.
So, in case I do decide to cut my hair before Fan Expo in August, I'll be covered, because I found this great site that sells amazing, high quality wigs at VERY affordable prices! Their selection is unbelievable! They have every colour & style you could possibly imagine! While searching online for Elizabeth wigs, I came across the above image, and shortly after that I ended up ordering the exact same wig. I haven't had a chance to try it on yet, but I'll try and remember to take a picture once I get the chance.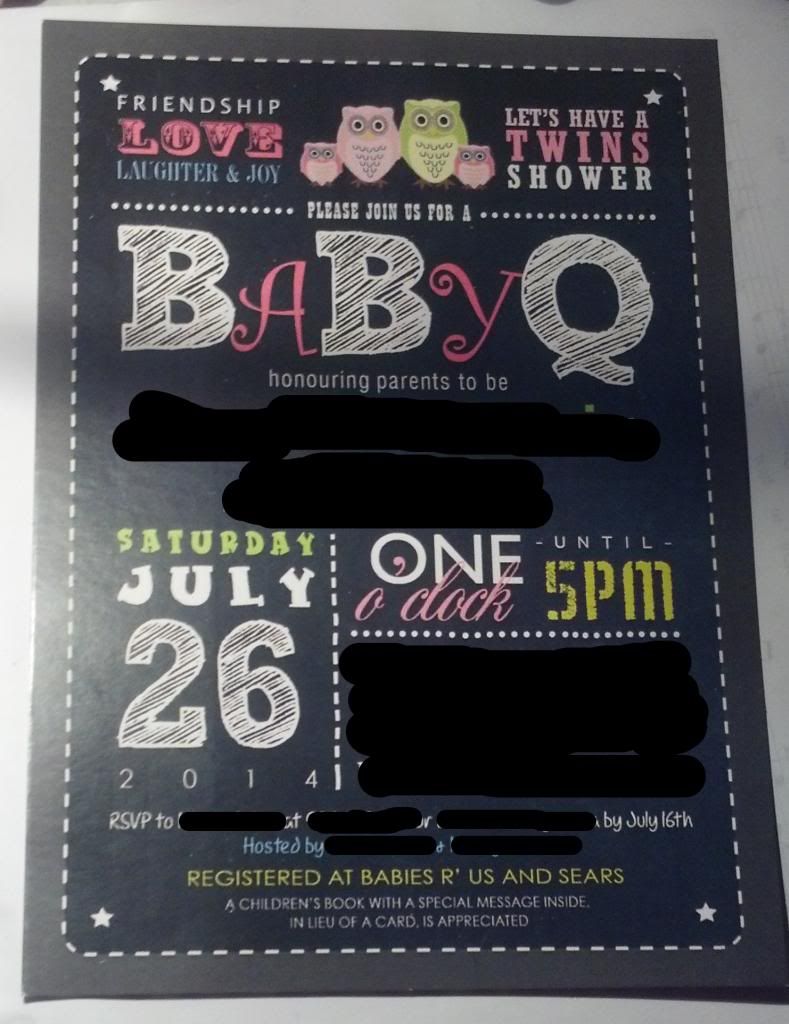 Item #2: Baby Shower Invitation!
First off, sorry that all the blacked-out confidential information doesn't look all that great, I'm new to blurring/blacking out things in photos. At least my crappy-looking black smudges don't take too much away from how cute the invitation is! The envelope was stamped with two pairs of pink feet, and the invitation says that the parents to be are expecting twins, so my guess is that they're expecting two girls.
We haven't RSVP'd for this yet, but I'm really hoping that my mother and I will be able to go. This shower would be happening the day before I'm due to leave for Wasaga beach to visit with my aunt and uncle, and I think that it could be a pleasant way to spend an afternoon. Plus this gives me an excuse to shop for books for somebody, and how can I pass that up? XD
Speaking of which, I think that these girls deserve the fighting chance of becoming geek girls, so I was thinking of searching the internet for some cute, nerdy board books that we could have as gifts. But if you guys have any ideas for what sort of books I should find for this shower gift, geeky or not-so-geeky, please comment below with your suggestions - I'd really appreciate it :)
Item #3: Letter & A Crapload of Jane Austen Postcards from Fellow Postcrosser Patricia!
Look! Aren't they beautiful?!
I remember seeing the Jane Austen post card pack on Amazon, and even at local Chapters stores, but I always worried about getting them, even though I would love to have them. I figured, "Who else besides me would enjoy receiving a Jane Austen-themed post card?" Well, now I have a whole set of my own!
Patricia is a fellow geek girl from Maryland (I actually had to look that up - I don't know all the state abbreviations XP) that I met through Postcrossing. We found out from our personal bio's after getting paired up for one of us to send a post card to the other that we were fellow geeks, so we decided that we'd continue sending geeky-themed postcards back and forth. And this package includes my very first letter from her!
From this letter I've been able to learn more about her, like how she used to have a cousin living in the UK and that's how she was able to go there to visit and then pick up some awesome Jane Austen's Bath postcards, one of which she sent to me a while back. I've also learned that she is an accountant, and that she also geeks out about Sherlock, Shakespeare and Agatha Christie! I'll have to ask her whether or not she watches the BBC version of Sherlock, and if so we'll need to geek out about it. Hopefully she won't give away any spoilers though, I refuse to watch the last episode just yet :P
I cannot wait to start sending out these postcards to fellow amazing people! I can use them for Postcrossing, and to send to other pen pals and geek girls as well. This is going to be so exciting!
That's all the mail-related news for last week. I'll be sure to keep you posted!