I'm not sure exactly how it started. Maybe it was when I was thinking about the fall and began picture how New York City looks in the fall. Or maybe it was the Buzzfeed article I read recently titled
"54 Things You Probably Didn't Know About 'Gossip Girl'."
But whatever it was, I decided to take a trip down memory lane and get reacquainted with one of my favorite guilty pleasures.
Since this show is one I loved while I was in high school and in my early years of university, and I haven't actually seen any early episodes of the show since watching the series finale at the end of the 6th and final season, I was sure that watching from the very beginning again would give me a whole new perspective. Especially since I now know who Gossip Girl is (but don't worry, for the sake of these posts I won't get into any spoilers unless I have to, and now without prior warning). For somebody who gets attached to characters rather easily, especially TV show characters, this was like a reunion of sorts, and I will now share with you some of the highlights of revisiting the first season of
Gossip Girl
.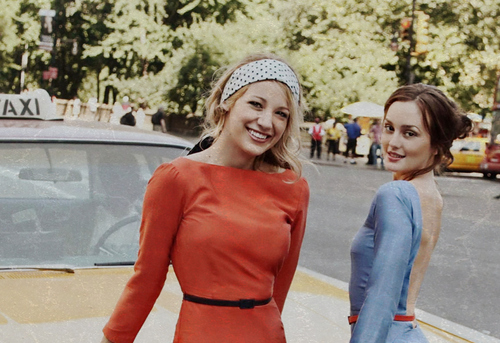 Serena & Blair
These two girls have the longest lasting friendship that I've seen in this show, and the stuff they get up to in their youth (the show starts when they're in their junior year of high school) is really comical to see with the faint rememberings of what happens with them as the years go on. The majority of the show throughout all 6 seasons focuses on Serena van der Woodsen, who at the beginning of season 1 is just returning to the Upper East Side from a stint in boarding school that she fled to the previous year without a warning to anyone. That being said, this show is definitely an ensemble production, and the personalities of all of these characters help to support the foundation that the show stands on.

The only actor I knew on this show before I started watching it was Blake Lively, who plays Serena, because she was in The Sisterhood of the Travelling Pants. So I was naturally more inclined to stick to her story line, at least in the early seasons, but now that I'm re-watching for other reasons I've picked up on a few things that I missed the first time around, which is always nice.
Style
Blair is probably my biggest style icon in the 1st season. Not only am I completely envious of her wavy brown locks, but a lot of the clothes she wears in this season is stuff that I very much wish I could own. The dress she wears during the Thanksgiving episode in particular is one of my favorites. I don't know if I could rock a hairband with everything like she manages to, and the big bows she manages to incorporate in so many outfits really isn't for me,
Little J
I have this personal fascination with the character of Jenny Humphrey, mainly because I have been using the actress' face, Taylor Momsen, as a celebrity face claim in my roleplaying for many years now, specifically the photos that pertain to her music career as the headliner for the band The Pretty Reckless. Seeing adorable J, especially in first season when she's still an impressionable freshman, in comparison to Taylor Momsen in real life is interesting on its own. There's also the transformation that Jenny makes throughout the seasons, and seeing where she was when everything starts is very enlightening after being away from the show for so long. If there's one character that is impacted the most by the world of the super rich and beautiful, it's probably Little J from Brooklyn.
"I'm Chuck Bass."
Ah, Chuck . . . one of my favorite "love to hate" characters of all time from television. Getting to see more "I'm Chuck Bass" moments in the first season made re-watching season 1 worth it all on its own. In the first season he only really shows the very beginnings of personal growth, but that's what the following seasons are for, and I'm very excited to get to re-live that!
There are of course more characters - the lovable Dan Humphrey, the charming Nate Archibald - but this re-visiting isn't necessarily to write character profiles as they are at the end of each season, but to experience the specific nuances and my favorite moments. As I continue to re-watch this series I plan to make note of more specific moments that I absolutely loved (and hopefully find any excuse to include a .gif or two XD). I also invite anybody reading this who has either previously loved Gossip Girl or maybe have been looking for the right time to start watching it, why not right now? Comment below with your experiences! Also, if you could choose a TV series to go back and re-enjoy right now, what would it be and why? Let me know!