Is everyone enjoying their Friday so far? I certainly am! Fridays are my favorite day, in no small part that I've been getting to show off fandom-related fun every Friday - plus, y'know, Halloween is a week from today. What better way to celebrate than with some great Halloween films? Let me show you my favorites! To be honest I haven't seen some of the classics like
Halloweentown
and
Hocus Pocus
but I still have 5 Halloween-themed or scary movies that I feel like chatting about.
#1: Addams Family Values
As great as the first movie is, I'd have to say, without a doubt, that Addams Family Values is my favorite, bar none. What with Wednesday having to survive summer camp with smiling, happy, blonde children, and with Fester being drawn in by a homicidal gold digger, it's a good time for everyone.
#2: Tim Burton's Sweeney Todd
Pretty much anything by Tim Burton is great for this spooky time of year, but this movie in particular is a delight to watch. It's scary and violent (and pretty much everyone in the world except for me finds Johnny Depp attractive) and the music is fantastic and it's also very suspenseful. Warning though, there's a lot of blood and a lot of slitting of throats, so I would not recommend this movie to the faint of heart, even if you do love show tunes.
#3: Edgar Wright's Shaun of the Dead
Anybody that knows me well will know that I will take pretty much any excuse to watch any film from Edgar Wright's Cornetto Trilogy - I love him as a filmmaker, and I love the unique acting talents of Simon Pegg and Nick Frost, and the first film in the trilogy is a romantic comedy with zombies, so it's perfect for this time of year! To be fair though,
Hot Fuzz
is about a series of murders in a small community and
The World's End
is about an alien invasion, so really any film from the Cornetto Trilogy would work as a Halloween film.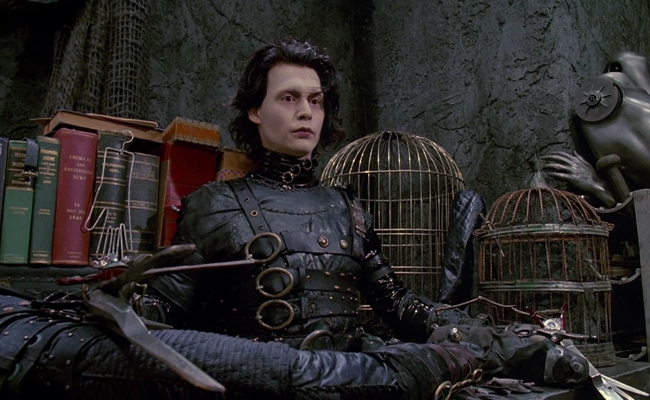 #4: Tim Burton's Edward Scissorhands
It's been a while since I sat down to watch this movie, but it's still one that I really enjoy when I do get in the mood to pop it in the DVD player. Although it always makes me sad that Edward isn't able to fit in alongside all of the 50's era housewives that live in the same neighborhood as his adoptive Avon Lady mother. It's especially sad when he doesn't get to end up with Wynona Ryder's character :( But nevertheless, this movie is a bit of horror story with a bit of gore and overall is an enjoyable yet tragic story.
#5: The Others
It's been a while since I watched this movie - truthfully I had to watch it in order to write an essay on it for my very first university-level English class. I'm not a huge fan of horror movies or ghost stories in general, but I found this one really interesting. It's got a great story line with quite a few great plot twists that you won't see coming. If you're looking for a movie with ghosts and plenty of suspense, this is one that you'll definitely want to pick up.
Bonus: Death Note & Death Note: The Last Name
So I know that Death Note is not exactly Halloween-themed, but these movies are definitely about murder and mystery and intrigue and the story line is great. If you don't mind foreign films with sub titles OR if English dubbed movies don't bother you, I highly recommend checking out these live action adaptations, even if you haven't watched the anime or read the original manga. I prefer the second movie to the first, and I did originally see the 2nd live action movie before I'd seen anything else related to the Death Note universe, but I still recommend that if you're new to the franchise that you pick up the first movie in order to get all the background information. Also, one cool tip, the voice actors that voice the anime characters for the English dub also do the English voices for both live action movies :)