Happy Friday! And to all of you Americans out there, Happy Belated Thanksgiving! By the by, I think every American that was happy by me wishing them a Happy Belated Thanksgiving should also wish me, and other Canadians out there a Happy Belated Thanksgiving as well, since our Thanksgiving happened in early October. Just sayin' :P Anyway, time for which fictional characters I would invite to my fictional Thanksgiving feast.
And this feast in question would most definitely be fictional. Because I don't like a lot of the foods associated with Thanksgiving, if I were to host a feast all I would be able to serve is McDonald's burgers, a plate full of grilled cheese halves, a massive bowl of chicken noodle soup, and a large batch of my spiced roasted potatoes. Probably not your traditional feast XD Either way, hopefully the characters I chose to invite will appreciate a very quirky Thanksgiving!
#1, #2 & #3: Stargirl, Dootsie and Mary Lou from Love, Stargirl by Jerry Spinelli. Close to the end of one of my favorite YA novels, Love, Stargirl, there is actually a Thanksgiving dinner that takes place, and like my feast would be it is one that varies from the traditional Thanksgiving dinner. The host of this dinner is help by an agoraphobic woman, Mary Lou, in her home, and this is probably one of the only times in the book that she is dressed in something aside from her purple bath robe and red slipper socks. She entertains her guests, including Stargirl's parents, with various dramatic and hilarious stories, which would be a great addition to my own Thanksgiving feast.
Dootsie is a 6 year-old who is energetic and silly and loves smashing potatoes at Mary Lou's. If she were allowed to by Mary Lou and Stargirl she would smash the potatoes using her feet like how she has seen people smashing grapes on TV XD And Stargirl, if she existed in real life, is somebody I would greatly idolize and would long to have as a friend, and she is very much the glue that brings everybody together to Mary Lou's for Thanksgiving dinner.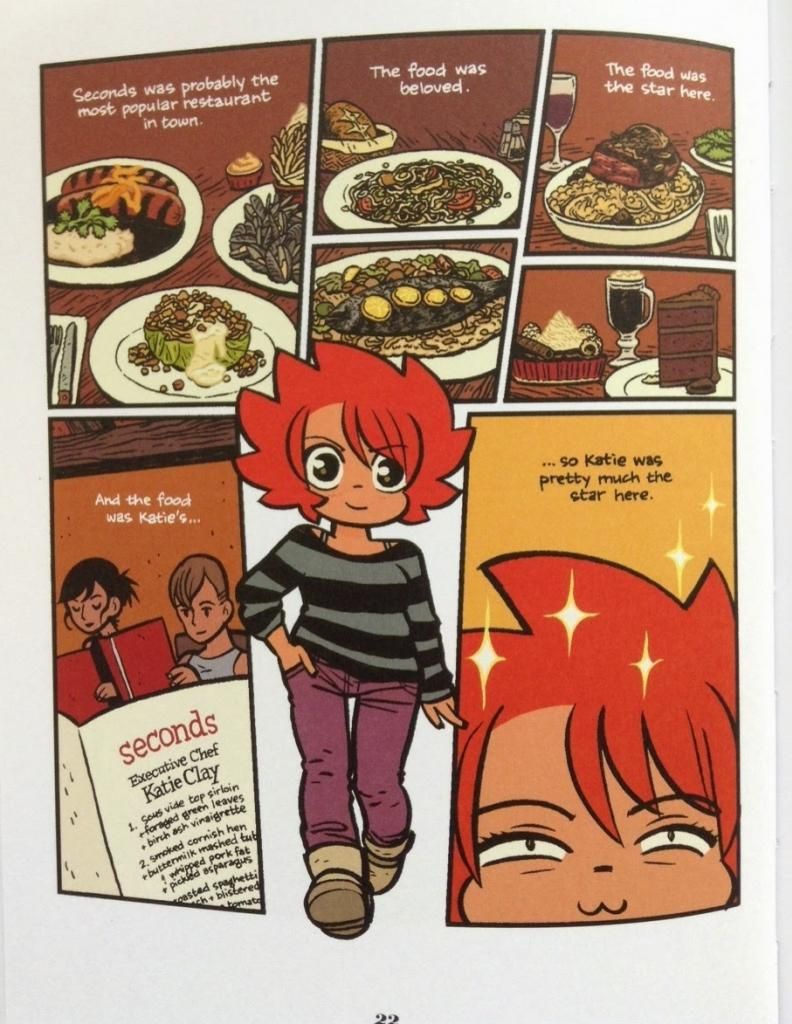 #4: Katie from Seconds by Bryan Lee O'Malley. Let's say that even though I myself don't like typical Thanksgiving day foods, maybe I would still want there to be some more traditional options for my guests (and my family if they're stuck attending this thing too). I would bring in Katie from Bryan lee O'Malley's most recent graphic novel Seconds to do all of the cooking! She loves to cook, so I doubt it would be much of an inconvenience. Plus Katie as a character is hilarious, and once she's done cooking she would be one of my guests and she would be a real hoot to have around for a lengthy meal.
#5: Lizzie Bennet from The Lizzie Bennet Diaries by Bernie Su.
There are many reasons why I would like to spend a day hanging out with Lizzie Bennet, but there are a few specific reasons that would pertain to my Thanksgiving feast. For one, she's a funny girl, and she's an educated young woman that is a great conversationalist. Plus she reads just as much as I do XD But another reason I'd invite her to my Thanksgiving feast would be so that she could slyly convince everyone at my feast to take pounds of food home with them as leftovers, like she does after her own Thanksgiving in
The Lizzie Bennet Diaries
when she talks about guaranteeing to convince Charlotte to take home a gallon of turkey soup XD That is a skill that would come in handy :P
Bonus: Tiffany from Job Hunters! This is one of my favorite ongoing web series right now. I think it'd be great to have Tiffany from Job Hunters at my feast because she could help me co-host, and would be able to serve everybody hot chocolate with tiny marshmallows once everyone is done eating dinner :)
How did you Americans spend your Thanksgivings? And for any Canadians that can remember back to October, how did you guys spend Thanksgiving this year? Let me know in the comments below!