Happy Tuesday everyone! It's time for another amazing #GeeksRunTheWorld post! Today I'm introducing Amanda, aka @amavongeek, another fellow iggle. Amanda was nominated by Christine, aka @kwsw0917.
"Amanda has a fun personality. Her geekiness shines through all she does. She's one of my first twitter friends. I'm looking forward to getting to know more about her with Iggle Fitness" - Christina.
Now, without further ado, time to meet Amanda!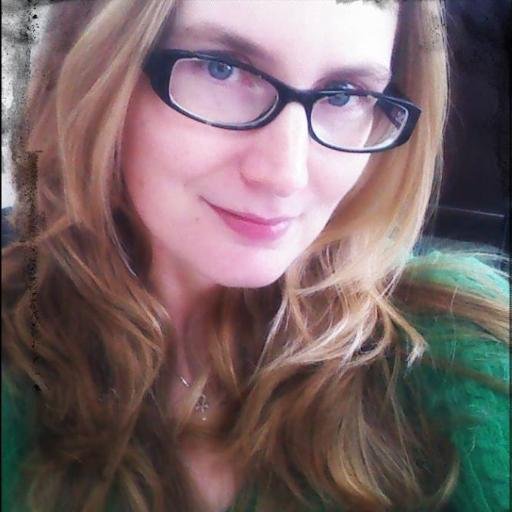 TWW(s): As of this moment, what are your Top 5 Geek Loves?
Amanda: - Star Wars
- Monsters (both the scary kind AND the cute kind. I love them all!)
- Vampires
- Philosophy/Religion
- Books (I read a lot. A lot a lot.)
TWW(s): If you had to describe yourself in 5 words, what would they be? Why those words?
Amanda: Ha, this is hard for me . . . I'm not very good at talking about myself.
Quiet, silly, observant, kind, generous.
I am quiet in general, I really prefer listening to talking. I'm hardly ever serious though, which is where silly comes in. My life motto is to be silly, be kind, be humble. Life is so much more fun when you're laughing! Observant because I often notice things other people don't, including the things that make others beautiful. I do my best to be kind to everyone I meet, even those who are not kind to me.
Generous because I will gladly give my time/money/things for people and causes that I believe will make a positive difference. I LOVE giving people gifts. It is one of my favorite things. Making people smile is awesome.

TWW(s): Speaking of giving/making people gifts, how did you get started making and selling jewelry online?
Amanda: I became really active in the yoga community on Instagram, and I loved so many of the gemstone bracelets people were wearing that I decided to make my own. Plus, they were so expensive to buy! I really just opened the shop . . . but my goal is to give people an option to get some jewelry with the feel-good vibes associated with yoga without having to break the bank.
TWW(s): That's really cool! And the bracelets you have in your shop are super pretty too!
"Happy 13! Her obsession with #milkychance led to this cake. I wish I had caught her reaction when she saw it."
TWW(s): What is the #1 thing in your life that you are the most excited about right now? Something that you're just dying to fangirl/gush about?
Amanda: Timothy Zahn. If you love Star Wars, you should read his stuff. I love his books and the characters, and just . . . so much awesome. I want to meet Thrawn! (Though I'd probably be terrified.)
TWW(s): Describe a typical day in your life. Where do you go? What do you do?
Amanda: I work an hour and fifteen minutes away from home 5 days a week, so I spend a lot of time in the car (Hooray for mix CD's! I'm such a music nerd). I'm a Human Resources Manager, so I get a lot of random fun things thrown at me on any given day. I have 3 little girls (one teen, two littles) that keep me pretty busy in the evenings. I also make bracelets and my own stationary and write a lot of letters. I'm usually writing something every night. In and around these things, I take a lot of pictures and try to work in some fiction writing to work toward publishing a book. Someday!
I want that book arch . . .
TWW(s): Tell us a bit about your family :)
Amanda: My husband and I got married in December of 2013,and we have 3 girls in our household, plus one cat and one dog. We've turned into quite the happy little blended family. The Littles adore their big sister (and I think vice-versa, though she probably wouldn't admit that!). All three girls are well on their way to joining the geek girl community with a love of geeky things from
Game of Thrones
to My Little Pony. The hubs is pretty awesome for encouraging all of our varied geek interests and for surviving all of that estrogen!
TWW(s): If you could travel anywhere, real or fictional, where would it be and why? A foreign country, the world of your favorite novel, sky's the limit!
Amanda: The Star Wars universe. Coruscant, Alderaan (assuming I can go back in time), and also many of the places listed in Timothy Zahn's books. They made me fall even more in love with everything.

TWW(s): Are you reading a Timothy Zahn book right now? If not, what are you currently reading?
Amanda: I am currently reading Clariel by Garth Nix. It is the newly released prequel to the Abhorsen Trilogy, which are some of my very favorite books.
TWW(s): When did you first become an iggle and how did you originally hear about the IGGPPC?
Amanda: I signed up for my first round in August. The Overlords did an amazing job with my first match up, and I have continued to sign up for the rounds since that time.
I first heard about the IGGPPC on a blog, but I don't remember which blog unfotunately. I'd tell her thank you if I could!
TWW(s): Tell us about any pen pals you've met through the IGGPPC!
Amanda: I have 2 pen pals that were assigned through rounds, Carrie and Amanda. They are both amazing and smart geeky girls.
I also write to 5 Princess Pen Pals, 1 post card pen pal, and a couple of Twiggles . . . none of whom I would have gotten to know without the IGGPPC (And I would gladly take on additional pen pals of any sort!).
TWW(s) I recently joined the #PrincessPenPals writing fun too! Why not tell people a tiny bit about the character you write as in your letters?
Amanda: My character is Liraele, who is a Shadow Priestess on the world of Nox. Right now, Noxis dealing with some issues . . . it's the home of the creatures that we commonly associate with going bump in the night and with fairy tales; the gates to all of the other realities have been closed by someone on Nox. Without these creatures, other realms get thrown out of balance, and chaos will ensue on Nox if the problem isn't remedied soon. Luckily, Liraele is getting help from several princesses, and I'm confident that they'll come p with some resolutions soon. Stay tuned!
"#snailmailideas A response for the September round, since she said she would like one :) @snailmail_ideas #writingletters"
TWW(s): What's your favorite part of the letter writing process? Writing the actual letter? Decorating the envelope? Licking the stamp? (No judgement! XD)
Amanda: Making the stationary and envelopes! I have a huge stack of envelopes made,and I think it's fun to have something other than a plain white envelope show up in the mail. Do they still make lick-able stamps? All of mine are stickers :D
TWW(s): Most of mine are stickers too. Although with the recent postal rate changes in Canada I had to buy a few 5 cent stamps, which I do have to lick XP
TWW(s): When did you start self-identifying as a geek?
Amanda: In my heart of hearts, always. I've been pretty vocal about it since my early 20's. I think it's awesome that bring a geek is seen as such a positive thing now! I remember when that wasn't the case (I'm only in my 30's, before anyone gets excited and thinks I'm ancient. Not yet! :) ).
TWW(s): Look at the new Iggle Manifesto and tell us your favorite line from it, or the line you'd like to most apply to yourself, and why.
Amanda: "I will encourage my fellow geek community." I think this is a big one. Our society is often so focused on what is lacking, or on competition, or that x is better than y . . . which is crap. Everyone deserves recognition, praise, love. Build each other up!
"She'd look more Audrey-esque if she would have let me adjust the dress after putting it on her."
TWW(s): What did you dress up as for Halloween? What did your kids dress up as?
Amanda: My costume was the Queen of Hearts. Our little girls went as Audrey Hepburn and Marilyn Monroe, with a transition to a witch and a fairy for the actual trick or treating so we can bundle them up (Cold here for All Hallows!).
TWW(s): You're also participating in NaNoWriMo this year, correct? Are you excited? Have you participated before? How's it going so far?
Amanda: Yes, I am participating this year. This will be my 4th year participating. I'm a pantser, meaning I figure it out as I go, there isn't much pre-planning involved for me. I tend to write whatever feels like coming out that day. I love seeing that so many other people are writing! Especially those who were afraid to get started, but are doing it anyway. The first step is often the toughest, but I'm glad so many are taking it . . . and I'm glad that I did it every year that I have participated so far!
Want to get to know Amanda? Find her on:
Say hi! Ask her to be your pen pal! Tell her how awesome she is!