Happy Wednesday - on a Thursday XD Clearly by this and my day-late Geeks Run The World post I'm a little behind this week, but I'm catching up fast, so don't you worry. Just think of this as a #tbt to yesterday or something like that :P Anyway, here are the items I've added to my wish list this week.
#1: "Day After Day In Yours Truly" Dress from ModCloth!
I cannot express to you all just how much I want - no,
need
- to have this dress in my life. After all, as a truly snail mail enthusiast, who would not love this blue dress decorated with little envelopes and cute cursive "Yours truly" messages decorating it? I feel like whining like a little kid over and over, "I want it I want it I waaaaaant it!!!!" XD Think that will work? I may try that on my mother :P Anyway, it's currently unavailable in my size, but the moment it is (and once I can afford it on my credit card), this dress will be mine! I am determined.
#2: Mockingjay Part 1 Soundtrack! I've really liked the soundtracks from the Hunger Games films. The music is very atmospheric and is a great soundtrack to have on while crafting or working on some other type of creative project when you really want to get yourself into a particular mindset. Another soundtrack I'd recommend that's really awesome is the soundtrack from the film Sucker Punch, which is a favorite of mine. The music is entirely covers made especially for the movie, but the sounds sound incredibly wicked and are great to throw onto your iPod. Back to the Mockingjay soundtrack, another reason I'd like to get my hands on it is because there is one specific song from the movie (if you've seen it, you know the one I'm talking about) that has been stuck in my head ever since I saw the movie on opening night. I also really want to see the film again, and I plan on going with my brother and sister-in-law at some point in the near future.
#3: An Autographed Copy of Grace's Guide: The Art of Pretending To Be A Grown-Up by Grace Helbig.
Truth be told I'm not currently one of Grace Helbig's subscribers on YouTube, but I do enjoy the occasional video of hers, and this one looks particularly funny. I've heard a lot about it, although I haven't gotten the chance to flip through a copy at work yet. I did see on the Chapters/Indigo app that they were featuring some signed copies of the book for a very reasonable price, and I mentioned that on my Christmas list for this year, so I'm hoping that part will end up working out :)
#4: "To The Tune And Back Notecard Set" from ModCloth!
How cool are these things? It turns out ModCloth sells a lot more than quirky dresses! I went through some of the gifts they have listed on their site and I found a whole whack of unique items - like this one! These cards would be pretty cool to sent along with a mix CD to somebody who you'd like to share the gift of music with.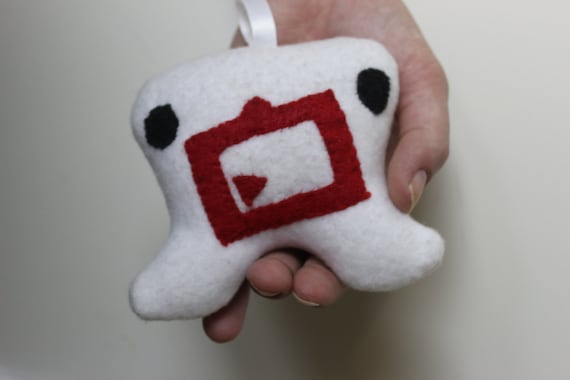 #5: Vloggy from NerdyMonsters on Etsy!
I find this little guy to be adorable. NerdyMonsters is the creation of a fellow iggle, and out of all her handmade creatures I think this one is probably my favorite. I know I haven't put out any YouTube content for a long while now, but I do hope to remedy that in the future, because I miss it so much. Maybe then I'll be deserving of one of these little guys :)