Been a while since I wrote about a video game! Lately I've been very into episodic video games, such as the ones published by Telltale Games. Since the success of their Walking Dead, The Wolf Among Us and Game of Thrones series, other companies have hopped on the bandwagon of creating episodic games, and one of these new releases is both amazing to play and gorgeous to look at. Not only that . . . but one of the main characters is voiced by ASHLY BURCH! Ladies and gentleman, this is Life Is Strange.

Have you ever been playing a Telltale game where you accidentally hit the wrong button that causes your character to curse and, in turn, they get punched in the face, and you have to go back to the menu in order to try again? I certainly have! This new game brought to you by Square Enix and Don't Nod Entertainment debunks that inconvenience with the main character discovering that she has the ability to rewind moments in time.
This great mechanic may appear to be the center of the game, and is definitely the most important element to the story thus far, but there is so much more to this game then you'll see from the trailer. Speaking of which, here is the trailer for you:
The main character you'll be playing as is 18 year-old Max, who has been accepted to the prestigious Blackwell Academy located in her home town. Her passion is photography, specifically the analog/polaroid style. You play as an 18 year-old high school girl who is very much an outcast in her new environment. It might not be desirable to play as a high school student at some prestigious boarding school in Oregon, but believe me, this game's many features and the story's intrigued will have you hooked from as early as the opening scene.
One of the key features, of course, is that you quickly gain the ability to turn back moments in time and give yourself a do-over. This will not only help you to fix problematic moments in the game's story in order to provide the best outcome, but it also allows you to mess around and have a little fun as well.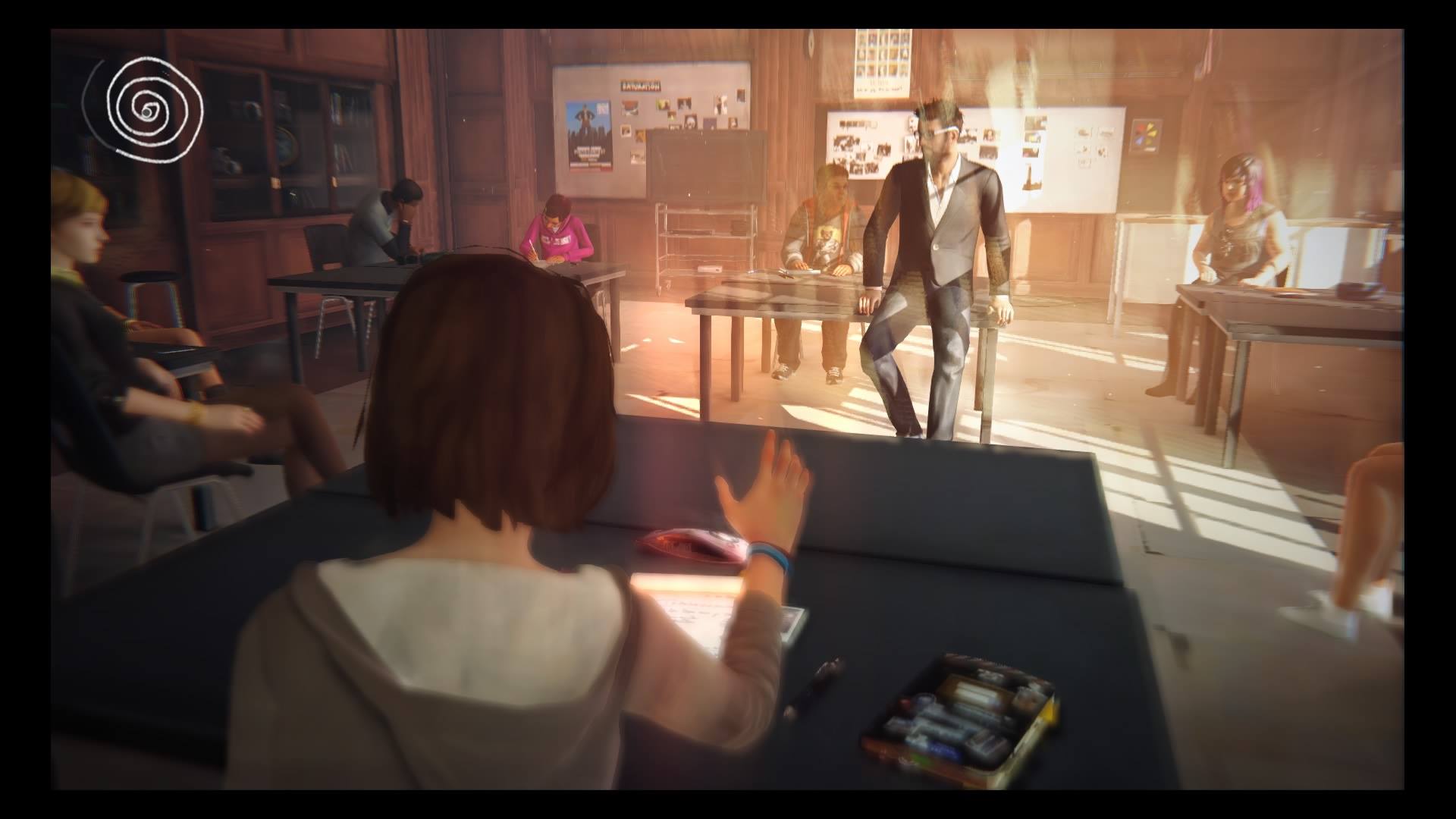 From what I've seen so far with the first episode, there is rarely a right or wrong answer that you're trying to produce when you turn back time to change the outcome of an event or a conversation. For example, one encounter Max will have with the principle will leave you questioning your choice, no matter which route you chose to take.
There is definitely a great amount of humor in this game, and you are truly able to just have fun with it as you progress through the game's plot. Maybe you feel the urge to sabotage the dorm room of your enemy, but don't feel like facing the consequences. Not only is this a moment where being able to turn back the clock will come in handy, but you may also get a great photo out of it. The Optional Photos that earn you achievements in this game are rather fun to seek out, either during your first play through or as an excuse to take another spin at the game.
This game is also very aesthetically pleasing, and you'll enjoy being able to stroll leisurely through this gorgeously lit and spectacularly animated world. There is also a great part of this game that you might not get with many other games, and that is a combination of a back story with a literary element. Max has a journal, which you have access to pretty early in the game. You're able to read her journal entries that lead up to her moving back to Oregon, and you also get some necessary background on many of the characters that you'll encounter during the game. This journal is also where you'll get to view the Optional Photos that you may choose to take in the game to earn you some achievements.
Also, I need to mention this, because I am the tiniest bit obsessed. One of the main characters in this game is voiced by one of my favorite internet personalities, Ashly Burch, who co-stars in the web series Hey Ash What'Cha Playin'? and also does a lot of voice acting work for shows such as Bee and Puppycat as well as other games like There Came An Echo. I'm a huge fan of hers, and I recognized her voice almost immediately when this character first appeared. I'm looking forward to play through 4 more episodes of a game where Ashly Burch voices one of the main characters.
The second episode of this game comes out rather soon, on
March 24th
. Also, I recently came across another great post about this game from fellow Canadian Geek Mariko MacDonald, who is the blogger behind Gamer Wife.
Click here
to read her post, and let me know in the comments below whether or not you think you might like to try this game for yourself.