Been a while since I've done one of these :) TBH I'm fully experiencing the real-life financial levels of a full-time student, which are virtually nonexistent, so no shopping sprees are in the foreseeable future XP But at the same time, I've been so busy with my program that I've had no time to want for anything. Y'know, aside from the 5 items below XP
#1: Lesson Closely Dress from ModCloth!
Lately, my ongoing TV obsession has been with
New Girl
, thanks to my roommate who gave me seasons 1-3 off her computer shortly after our first shopping trip together. I could see this as being a dress that Jess would wear, plus I just adore it in general.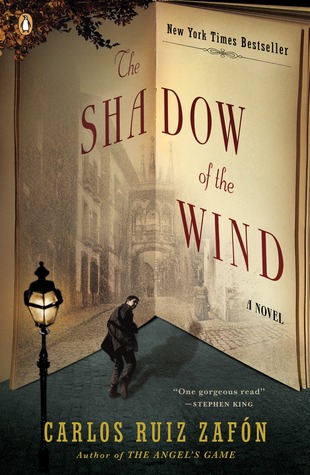 #2: The Shadow of the Wind by Carlos Ruiz Zafron. This book was recently recommended to me by a fellow nerd I met at Book Summit. His description involved a boy who is given a book titled 'The Shadow of the Wind' and it's the best book he's ever read, but when he tries to find more books by the same author he comes to discover that somebody has been attempting to burn all of the author's books, and he may be in possession of one of the only copies left in existence. It also takes place in Brazil in 1945 after the Spanish Civil War, and overall it looks like a fascinating read. Due to personal circumstances (including the fact that I'm a student), I can't afford a new book right now, but this is on the list of what I'll absolutely need to pick up during my next trip to the bookstore.
#3: Essential Professional Makeup Brush Set from e.l.f!
As somebody who does not own a set of makeup brushes (and therefore needs a set), I'm not sure if $1 a brush is a good deal or not if they're quality brushes, but regardless I still want these quite a bit.
#4: The Pretty Reckless Crossing Platforms T-Shirt from District Lines!
I've been an admirer of
The Pretty Reckless
for years now, and they're still the only band I've ever seen in concert. I'm also a big admirer of the massive platform heels that lead singer Taylor Momsen is known to wear on stage (at least a while back, before she switched to combat boots to give her feet and legs a break). She even used to have a pair of glass platforms where she had written TIPS on the side and people that would come up for signatures would actually leave tips inside the glass platforms XDD
#5: Epic Spell Wars of the Battle Wizards: Duel at Mt. Skullzfyre! I saw this card game played on Tabletop, naturally, and I think this would be a great game to add to my personal collection. It's chock-full of what Wil Wheaton aptly described as "12 year-old boy humor" and it looks like it would be a pretty easy game to just pick up and play.
What fun products are you currently lusting over? Let me know in the comments :)