Happy September everybody! It's the beginning of a new month, which means getting organized and planning ahead for the next 28 days that are yet to come. Some of you are starting back to school this month, some of you may have already started last month, and as for me, I am officially done with my schooling, so I'm enjoying a short break where I will be hoping to tackle some new projects. Some of the items on my wish list will hopefully be able to help me achieve my monthly goals.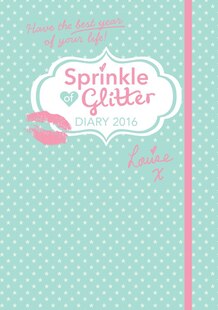 #1: Sprinkle of Glitter 2016 Diary!
I found out about this from one of Zoella's videos (of course :P) and it's filled with pretty illustrations and cool photos and positive, uplifting messages for the year of 2016. It's being released on September 29th in Canada, and will probably have the same release date in the US.
#2: Adobe Premiere Elements 12! Here's the story: I actually received this video editing software as a Christmas gift about 2 years ago. I didn't install it right away because I was still using Premiere Elements 10 and it was working just fine, and I figured I could wait until it felt right to upgrade. However, since then I haven't been able to find the software anywhere in my house. I've been tearing out my hair trying to find it, and we've been cleaning out a good chunk of the house lately since my return and it still hasn't turned up. The reason it's on my wishlist is because what I truly want is to find it again, wherever it may be hiding.
#3: Instax Mini 8 Frame from Dearly Dee & Sasha Aziz on Pinterest!
Now that I have some free time on my hands, I'm hoping that I'll be able to spend some time getting a little crafty. I've been having a ton of fun with my Instax camera lately, and I've been looking for a cool way to display my photos and I think I've finally found something that looks doable :) I recently picked up some pretty gold picture frames from my first trip to Ikea in May, and I think they would be perfect to display some of the Instax pictures I've taken over the last 4 months in this same style. If I ever get to completing it, you can be sure I'll be sharing the photos here for all of you to see :)
#4: Display or Stash Away Keepsake Box from ModCloth!
Isn't this thing precious? You can print out and frame some of your favorite Instagram shots in the two square frames and dig up your favorite digital camera/cell phone camera shot for the back one, and it's both decorative and practical.
#5: Hannah Hart Posters from DFTBA Records!
I'm a big fan of Hannah Hart, and I'm especially a big fan of her motivational messages. Hannah is an upbeat, positive person, and is brave enough to share her insecurities with the internet, which in turn makes us viewers feel that we are capable of being brave as well. I honestly wish these images were available in post cards, because I'd love to send these messages to my pen pals and my friends, but the messages are great and the art for the posters are exceptionally pretty.