The countdown to Christmas is upon us! I can't believe how much time has already gone by, and how little time I have to continue making gifts for people, especially for the IGGPPC Geeky Santa Swap that I signed up for. Even so, I've still managed to have time to surf the internet and find really cool/cute things to add to my Christmas list :) Take a look at the newest additions.
#1: Instax Mini 8 Sparkle Frames!
I found out about these on Pinterest, and I think these are the coolest things ever :) I'm always looking for cool ways to display my Instax shots, because I love taking these pictures and whether I have to buy or make something to display them in, I will go out of my way to show off my pictures. These things are apparently only $6, so I may very well pick myself up a couple of these one day when I have some more money.
#2: Jessica Jones T-Shirt from TeeFury!
Like many other people on the internet that have access to Netflix, I freaking
love
the new show Jessica Jones, it's amazing and I can't get enough of it! I watched the whole thing the first time with my boyfriend and since then I have occasionally started to re-watch some episodes for the heck of it. I think this shirt is awesome and totally wish I owned it right now XP
#3: Friends Ugly Sweater!
This sweater keeps popping up on my news feed on Facebook, and I can no longer ignore it because of all the cool references that are jam-packed onto one single sweater. If you know me at all, you know how much I
love
my reference humor, and I also love the show
Friends
, as do my closest friends and we always find excuses to quote parts of the show to one another.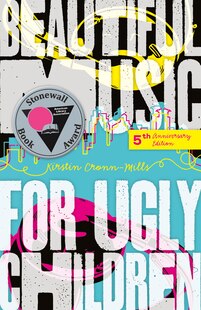 #4: Beautiful Music For Ugly Children by Kristin Cronn-Mills! I came across this book when looking at a list of top 50 YA titles on the Chapters-Indigo website, and this one stuck out to me both for the cool cover, the intriguing title, and also for the premise itself. The main character is trans-gender, and a lot of the story is about their struggle with associating themselves with a gender that goes against their physical sex. I think this would be a great book to read and then review for all of you here.
#5: Kiki's Delivery Service Costume Dress from Hot Topic!
I may not have mentioned this before, but for Anime North 2016, which is the next big convention I have coming up (unless I go to Toronto Comic Con), I really want to cosplay as Kiki from
Kiki's Delivery Service
. Also, if I end up overcoming my irrational fear of changing a diaper, I'd like to take my adorable little nephew with me and dress him up as black cat Jiji, because of the adorbs overload. I don't know if I would use this dress for a csplay, but if I was unable to find something more accurate, than this would certainly work in a pinch. Plus I could use this dress for some fun everyday cosplay!
Do you have any top items on your Christmas list this year? Let me know in the comments below!