You may have noticed by my lack of reviews posted lately, but I have been in a bit of a reading rut for the past... Well, it's been quite a while, I must say. I'd like to say that all it takes is one good book to mend that sort of bookless abyss, and for some people it very well might be. If anyone has suffered from a similar affliction, may I recommend this remarkable read.
Unbecoming
is a young adult novel that can easily be enjoyed by women of any age, and the three women who take center stage in this story suffer from their own separate afflictions, all within the same family and under the same roof.
Katie has final exams of her junior year (or the equivalent of that in the UK, where this novel takes place) just on the horizon, and as if that were not stressful enough, she is currently a victim of bullying because of a private moment shared with her best friend, where Katie initiated a kiss with her friend Esme. Since then, Esme has been ignoring her texts and calls and dodging any attempts at talking things through with Katie.
Caroline is a single mother, whose husband cheated on her and now lives in their old home with his new girlfriend, with their brand new baby daughter. They've moved to a flat in Bisham, where on top of working as a Realtor, she works hard to raise and be there for Katie as well as her son Christopher, who was born with an undiagnosed disorder. Things become even more stressful when Caroline's biological mother, who gave her up shortly after she was born, shows up out of the blue with nobody else to care for her, and with nobody but Caroline to take responsibility for her.
And finally there's Mary, who is taken in by her daughter Caroline and is lucky enough to live with her grandchildren Katie and Chris, although she has difficulty remembering her names - though Caroline tries relentlessly to drag Mary to a number of doctors, they are able to nail down a specific diagnosis, although they are certain that Mary suffers from some degree of Alzheimer's disease or dementia. Mary's condition is actually described quite aptly in the book itself, and I'll quote the passage for you guys below:
"He showed them the CT scan, pointed to some black smudges with the tip of his pen, and said Mary had plaques in her brain. It was about the only thing he was certain about. He used the analogy of a forest - one day a tree crashes to the ground and bang, the recipe for lasagna you've known for years falls out of your head. The next day a different tree silently collapses and bang, the memory of your first kiss disappears forever. Eventually, Mary would forget how to use the toilet, how to walk, how to eat. Until, one day, the forest became a wasteland and she forgot how to breathe.
'Silent, deadly, and irreversible,' the consultant said."
- Chapter Twenty-Two, Unbecoming by Jenny Downham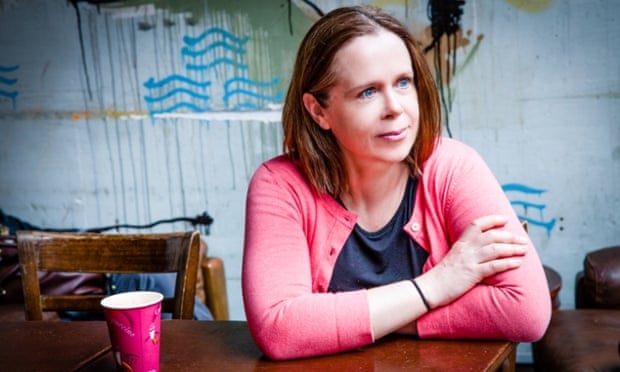 Jenny Downham
The main narratives that this story is told through are Mary's and Katie's, but we do get a chapter or two from Caroline's perspective throughout the novel. A lot of the mystery in the novel amounts to not having Caroline's perspective on things, since Katie's questions that she wants to answer stem from not being able to communicate well with her mother. For instance, what happened to make Caroline hate her own biological mother so much that she doesn't want to take care of her? Why did Mary decide to give her up in the first place? What has Mary been doing before she ended up at the hospital and her mom was called to pick her up in the first place? And with Mary's many, many escape attempts from the flat, and with Mary's urgency to get somewhere but being unable to remember where it is specifically that she needs to be, Katie is determined to find out where it is that Mary is trying to go each time she escapes.
One of the reasons I was drawn to this title is because my own grandmother has exhibited signs of dementia, although she hasn't received a official diagnosis. Not only that, but me and my mother moved in with my grandmother in late 2016, and one of the main reasons was to help my grandmother. She's had a couple of bad falls, and she had issues with forgetting to take or taking too many of her pills because she lived alone. Some of the frustrations that exist when you're taking care of a family member who has issues with their memory were very real in how they were portrayed in
Unbecoming
. The frustrations are not only born from physically helping out someone who at times needs help taking care of themselves, but those feelings also grow from that person's inability to remember key things, which can cause irritability in both parties. It's far from an easy task, and while Caroline may be portrayed as a villain throughout the novel, trying to find alternative care for her mother Mary, it's easy to understand where a lot of her frustration comes from. And if it isn't entirely clear to the reader, there is a moment in the book where Katie is in charge of both her brother and Mary for the night, and she gets the chance to walk a mile in her mom's shoes and see just how difficult things have become since Mary's arrival, and going through that experience brings Katie and her mother a lot closer.
I greatly enjoyed the dynamic between Mary and Katie in this novel, especially how they go from virtual strangers to Katie looking up to Mary and delving into her history the way that she does. Because Mary has trouble answering a lot of the questions surrounding her life, it makes her a walking enigma, and Katie very much takes on the role of a detective diving head-first into a great mystery. Katie even tries to harness some of Mary's gusto and bravery, and even goes as far as to wear some of Mary's old clothes from her younger days. This reminded me of the idea of having a wearable totem to help a person boost their self-confidence.
This book was extremely enjoyable, from start to finish, and I'd recommend it to any lady of any age. I've even considered loaning this book to my mother for her to read, because I feel that she'll find a connection in a lot of the same themes in the novel that I did, and that she would overall enjoy the story and the characters.
Let me know what you're currently reading in the comments below :) Or if you've also read
Unbecoming
, I'd love to hear your thoughts about it!