Happy 2nd week of 2019, my friends! Sorry that this post is a little later than I intended it to be; I've had this same cold since before Christmas and its been kicking my butt XP But I was finally able to finish researching and ranking books being released in 2019 that I am the most excited for, and I can't wait to share my top 10 list with all of you 😊
Any book taking place - fully or in-part - in modern-day Japan will always rank high on my TBR list 💝 If the title alone didn't already sell me (I'll be honest, I love the title, it's both punny and adorable!), then the premise certainly did: Kimi Nakamura loves designing clothes for her and her friends, but her mother is upset that Kimi is spending her time on "distractions" instead of working on her fine arts portfolio for college. She gets the chance to escape from her life and her mother's expectations when her grandparents invite her to stay with them in Kyoto for Spring Break. And the guy that she meets in Japan and ultimately falls for is a med student who works as a mascot who wears a mochi costume 😆 What's not to love?
Pub Date: 16/04/19. Genre: Adult Fiction/New Adult Fiction
I already reeeeeeally wish that this book was out now, because I'm really anxious to read it! I immediately fell in love with the title, but I really liked the idea about a book surrounding two people that are polar opposites, both regarding their personalities and their in-school popularity, but who are friends behind the scenes that reunite a year later when they're both away at a college in Dublin, where their social statuses are reversed from where they were in high school.
Pub Date: 02/04/19. Genre: YA Fiction
It goes without saying that Geekerella by the same author has to be one of my favourite books of all time, and not just in the YA genre. When I learned about Ashley Poston publishing another book that takes place in the same universe as Geekerella but surrounding different characters from that universe, I immediately hopped on board. The only reason this title isn't #1 on this list is because the stories of the previous two titles grabbed my attention a bit more. But that doesn't mean the premise of this title is one that I'm not excited about: The story surrounds actress Jessica Stone, who originally appeared in Geekerella as Darien Freeman's co-star in the film adaptation for popular sci-fi TV series Starfield. Jessica still wants to leave the Starfield film franchise in order to take on different movie rolls, whereas dedicated fangirl Imogen Lovelace has made it her personal mission to save her favourite character, Princess Amara, from being killed off in the next Starfield film instalment.

This novel is a modern adaptation of The Princess and the Pauper, which might not be as popular of a plot structure as Cinderella is, but I'm confident that you won't need to know more than the basics of the plot in order to fully understand the plot points of this new novel. And don't worry, the plot points are nearly identical to any twin-swapping, mistaken identity-style film or story that you've come across over the course of your life.
Pub Date: 12/03/19. Genre: Non-Fiction/Well-Being
At some point last year, I developed an interest in obtaining a few specific well-being books after they were recommended to me via a YouTuber/Author I recently started following,
Kristen Martin
. While looking up said self-help titles, I came across one written by the author Rachel Hollis, whom I hadn't heard about before that day. When I delved further into the books that Amazon was recommending to me based on my recent purchase, I came across this book, which I immediately wanted to own. The title spoke volumes to me, because I am a person who is
constantly
apologising, even when I'm told that I don't need to apologise at all. I'm fairly certain that this book is directed towards people like me, who need to stop apologising and feeling ashamed for the smallest of reasons.
Pub Date: 04/10/19. Genre: Non-Fiction/Event Planning.
I have been looking forward to Zoella's first non-fiction book release so much that I added this book onto my most recent Christmas wish-list - until I discovered that the book wasn't due to be published until late 2019 😟 I was able to learn about what sorts of things would be covered in this book, and even got to observe the photo shoot for this book in a number of Zoella's daily vlogs. Even though I don't host parties as much as I used to (or really at all since moving into my grandmother's house), I really admire all of the special touches that Zoe Sugg puts into events or parties that she hosts, and especially the care packages and goodie bags that she prepares each time that she and her boyfriend Alfie are expecting overnight guests.
Pub Date: 06/04/19. Genre: YA Fiction.
I'm sure I've mentioned before that I have a weakness for any books featuring dancers or that are about dancing in any way, shape or form. Whether it's ballet, hip-hop, break-dancing, doesn't matter, I just
love
reading stories about dance for some reason. Not only is the protagonist of this novel, Chloe Pierce, a dancer who is travelling to the dance conservatory where she has applied in order to complete her audition, but her mother has forbidden her from applying, so she ends up travelling to the nearest audition with her next-door neighbour who threatens to confess Chloe's plans to her mother if she doesn't let him tag along on this secret journey. It looks like it will be a really interesting read!
Pub Date: 09/04/19. Genre: YA Fiction/New Adult Fiction.
You might think from this book's title and cover art that you're looking at a typical teen love story, but you would be wrong. First-off, the book begins when the female protagonist Katilyn is in her first year of law school, when she literally collides with her favourite actor, Daxton Hughes, and proceeds to learn that he is in the sae class as her. The two quickly become friends despite the embarrassing meet-cute, and then the story fast-forwards to years later where Kaitlyn is a lawyer who is approached by Dax as a client asking her for legal advise. Of course this is a love story, but I always appreciate those romance plots that don't immediately dive head-first into the romance and instead start with the relationship between the two characters being built on a bedrock of a friendship instead of the story being about a two-dimensional and possibly cliche romantic relationship.
Pub Date: 02/04/19. Genre: Adult Fiction/Historical Fiction?
Aside from books about dancers and modern-day Japan, another soft-spot of mine is books relating to the publishing industry itself, whether the books centre around a local bookstore or if they follow the daily lives of an author, editor, or publishing executive. As you might have guessed, The Editor centres around an editor, but the main protagonist is actually struggling writer James Smale. The book is set in 1990s New York City, and the editor that James ends up selling his manuscript to is a legend in the industry (and also in American history), Jacqueline Kennedy Onassis. Yes, James' editor is former First Lady Jackie Kennedy.

In this sense, this novel might also be categorised as historical fiction, although I'm not entirely sure if the 1990s currently counts as an example of historical fiction, although I suppose any book taking place in the past, even within the last 5 years, could be considered a work of historical fiction, especially when it weaves-in real-world historical figures and facts. Anyway, after that slight tangent, writer and editor become friends and Jackie encourages James to write an authentic ending to his novel that is based on his real-world family, and helps him through his struggles to finish the manuscript despite the strains his writing has put between his family and his partner.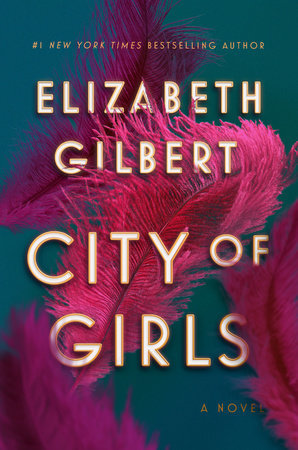 Pub Date: 04/06/19. Genre: Adult Fiction/Historical Fiction.
When trying to decide on the rankings between these last two novels, City of Girls ended up being the obvious choice for #9 when I remembered that not only does this novel take place in New York City (yet another weak spot of mine), but it also surrounds the theatre world in NYC during the 1940s (love reading about the theatre as well - once a drama kid, always a drama kid 😜). This book focuses on female sexuality during this time in history, as well as an odd yet charismatic cast of characters that work at her aunt's theatre called the Lily Playhouse. I've yet to read any other works by Elizabeth Gilbert, fiction or otherwise, but I'm looking forward to this novel as being an intriguing introduction to her writing style.
Pub Date: 25/06/19. Genre: Adult Fiction/Historical Fiction.
Yay for feminism and a novel with (potentially - not confirmed) alternating perspectives following two sisters through the 1950s to the present day! This is another author I haven't personally read, and the synopsis for this novel isn't too in-depth, but it still looks like it will be an enjoyable read. It appears that
Mrs. Everything
will focus on feminism and moments in "herstory" that follow these two sisters' lives through a rapidly-changing America.
Looks like I have an exciting year of reading ahead of me! Despite not meeting the goal of my 2018 GoodReads Reading Challenge, I will still be doing another reading challenge this year, with a goal of 15 books instead of 20. Hopefully this year will have less time taken up by chaos and drama and more time available to curling up with a good book or two 😁💗📚
What upcoming book releases are you looking forward to, and what books are you currently reading to kick off 2019?
Let me know in the comments or on Twitter @KacieCruise - I always love chatting about books! That's a wrap on this list, and until next time, I'll keep you guys
posted!